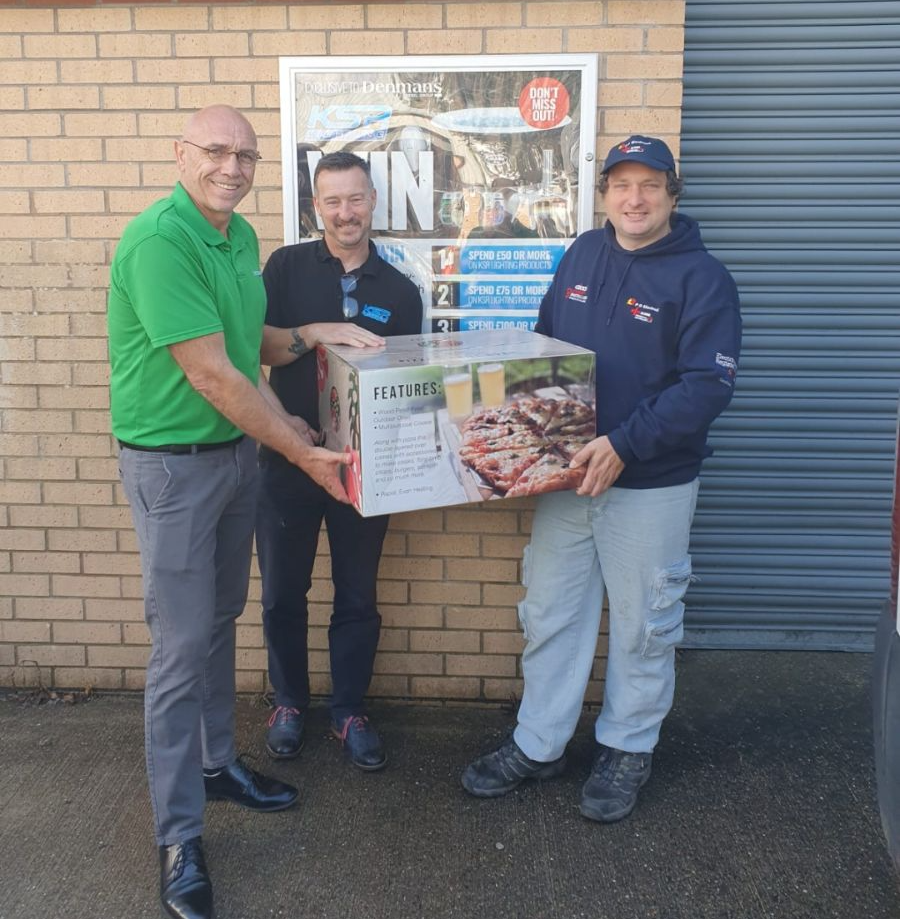 A Pizza Oven Win Courtesy of Denmans of Barnstaple!
On a sunlit day that will forever hold a special place in our hearts, the team at P D Electrical has reason to rejoice. We are thrilled to announce our triumphant victory in an exciting competition organized by KSR, the esteemed manufacturer of lighting products. Thanks to our trusted electrical wholesaler, Denmans of Barnstaple, we emerged as proud winners, earning a fabulous pizza oven that promises to elevate our team's bonding experiences to new heights. Captured in a memorable photograph, our jubilant faces mirror the joy and excitement of the moment, commemorated on the auspicious date of 17th July 2023.
The excitement escalated as Denmans of Barnstaple presented us with the 2nd place prize—an exquisite pizza oven that promises to redefine the way we celebrate camaraderie and team spirit. Beyond the boundaries of work, this generous gift kindled our imaginations with visions of delectable pizzas, shared laughter, and cherished memories.
The joyous occasion of our victory was immortalized in a photograph capturing the essence of our elation. Beaming with pride and camaraderie, Jonathan (ksr rep), myself (Paul P D Electrical), and Jason (Manager of Denmans) stood side by side, holding the symbol of our success. The shared sense of accomplishment radiated from the photograph, forever preserving the momentous day of 17th July 2023.
As we embark on this new chapter, armed with a pizza oven gifted by KSR and Denmans of Barnstaple, we eagerly anticipate a future filled with bonding moments, culinary delights, and the strengthening of the indomitable spirit that defines our team. Together, we will forge ahead, knowing that we have the support of our trusted partners and the spirit of collaboration that brought us victory.
The taste of success is truly sweet, and we owe this unforgettable moment to KSR, our reliable lighting manufacturer, and Denmans of Barnstaple, our esteemed electrical wholesaler. The pizza oven serves as a symbol of unity and achievement, a testament to the power of dedication and partnership. With hearts full of gratitude and excitement, we look forward to the delicious possibilities ahead, knowing that together, we can conquer any challenge that comes our way. Onward we march, united and victorious, embracing a future illuminated by the warmth of shared victories and a passion for excellence.